Contact us:

taylorzs@live.com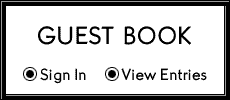 Whats New!
4/7/2014- Congratulations to Marc Barella on becoming the second person to ski all of Colorado's 14ers! On 4/5/2014 Marc rode off the summit of Culebra peak, his last 14er!
9/13/2011- Just got up a profile for Marc Barella on the main page below as well as recoridng descents of his on the Lincoln, Bross, and Democrat pages. More to come soon. Also posted new pictures on the Capitol Peak page from Marc Barella and Jarrett Luttrell. Enjoy!
9/11/2011-Just to recap on descents for the 2011 spring season. Marc Barella made the second snowboard descent of Capitol Peak and the third known snowboard descent of Pyramid Peak. Erik Kling has checked off a couple more on his list as he closes in on the last few. Zach Taylor summited and snowboarded 7 14ers in Colorado. There are new pictures, trip report links, and descent logs on Capitol, Pyramid, both N and S Eolus, Uncompahgre, Redcloud, Sunshine, and La Plata peaks. Check them out!
1/26/2011- I got up a descent of Longs peak via the north face in July of 1995 by Dave McKee. Jim Detterline accompanied him and took pictures.
1/22/2011- I got up some pictures and information on a descent Erik Kling and Tom Courtright did of the east couloir of Mt. Eolus this previous spring.
9/29/2010-I got up some new photos and records on the Wetterhorn page and also added a bit more information on the top ten 14ers of the left hand column yesterday. I will be working back through the site over the next month adding some more information and photos.
8/18/2010-I got up my descents of Yale, Redcloud, Handies, Huron, and Wilson Peak recorded on their respective pages along with some new photos and links to trip reports for a couple of them. Check them out!
Colorado 14er First Snowboard Descents Project

The purpose of this project and website is to document the first descents/early descents of Colorado's 14,000' peaks by snowboarders.  This is an ongoing project.  We are gathering this information from riders around Colorado and are looking for more...We want to hear about any and all snowboard descents you have done on Colorado's 14ers.  Specifically we want to hear about any descent you may have done involving steep and remote lines in the San Juans, Elk, and Sangre de Cristo mountain ranges.  We also want to hear about any snowboard descent on any 14er that happened back in the 80s and 90s. We want to hear about first descents of new routes as well as the initial first snowboard descent of each peak. This is how we will continue to get a more accurate picture of the snowboarding history of Colorado.  Be prepared to supply dates, pictures, and names of people involved.  Thanks again for your help!  Not all the 14ers have a page yet.  This will happen as we recieve more information and pictures from you.  If you have something to contribute please send an e-mail with the following information:

1)what peak you rode
2)what route you climbed and what route you descended
3)the date of each climb
4)the full names of the people that were with you and please note if any are skiers.
5)any photos from the 14ers you would like used on the webpage.  please credit them with this format: photo-Zach Taylor descending the Bellcord Couloir, Maroon Peak. photo by Ricardo Contro, 2005"  That way I know who's in the picture, where they are, who took the picture, and when it was taken.  The pictures I am most interested in are pics that show the mountain or a specific couloir or face and action shots of snowboarders descending these routes. 

  One more thing, this is just a project taken up by myself and assisted by some others in the snowboarding community out of a desire to see the snowboarding history of Colorado documented and recorded.  We are happy to hear suggestions but please be patient with updates as this takes time and I have a full time job and my own obsessive mountaineering endeavors to enjoy as well.  Zach Taylor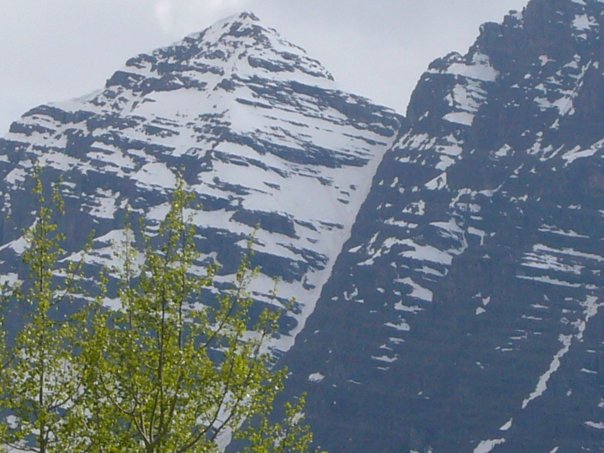 picture: The Maroon Bells with the Bellcord Coulior separating them. photo by Zach Taylor, May 2007.

Help!  We need pictures for the site. Please e-mail
taylorzs@live.com
with pics.  Thanks!
Profiles of people on the site

Barrows Worm: A Colorado snowboarder and moutaineer who completed the second snowboard descent of Long's Peak with Mark Rikkers and has done quite a few early and possibly first descents.  You will see his name mentioned through out this webpage.  Barrows is based out of Boulder.  If you want to learn a bit more about Barrows mountaineering and snowboarding check out this interview he did with Kyle Miller at
http://www.whereiskylemiller.com/archives/1859
  .
Erik Kling: Erik is close to finishing snowboarding all of Colorado's 14ers. His total 14er descents are 50. He is credited with the first recorded snowboard descent of Little Bear Peak and Mt. Wilson amongst others. He has also ridden 12 months a year since September 2000. Erik lives high in the foothills west of Golden. His dog Io accompanies him on many of his trips.
Jarrett Luttrell:  The first and currently only person to snowboard all of Colorado's 14,000' peaks.  He is also credited with the earliest known snowboard descent of the North Face of Mt. Democrat, the northwest couloir on El Diente and the first ever snowboard descent of Capitol Peak(done via the east face-secret chute).  Jarrett does many of his descents solo as well.  He is based out of Gunnison.  Since riding all the 14ers Jarrett spends most of his time riding any peaks he feels like.  He resides in Silverton, Co.

Zach Taylor: moderator and creator of this site. Zach Taylor has done over 50 snowboard descents off Colorado's 14ers including repeats, 23 different 14er descents, over 100 summits of 14,000' peaks in Colorado, and many other peaks throughout Colorado. He has spent time climbing and snowboarding peaks across the western US; Washington, Oregon, California, Wyoming, Utah, New Mexico, Guatemala, and Mexico as well. This includes the earliest documented snowboard descent of El Pico de Orizaba 18,405', the third highest peak in North America. Mt Rainier's Emmons Galcier, Mt. Hood, and Mt. Shasta are a few others of note. He was the president of the University of Colorado-Boulder Alpine Club while studying there. He is an Avon local. You can check out Zach's personal snowboarding web page and trip reports at
www.zachtaylorsnowboarding.com
.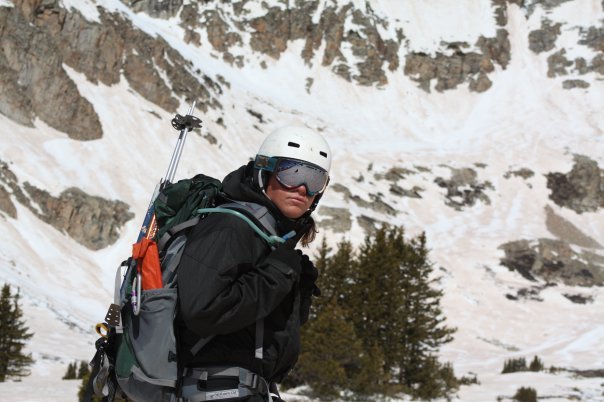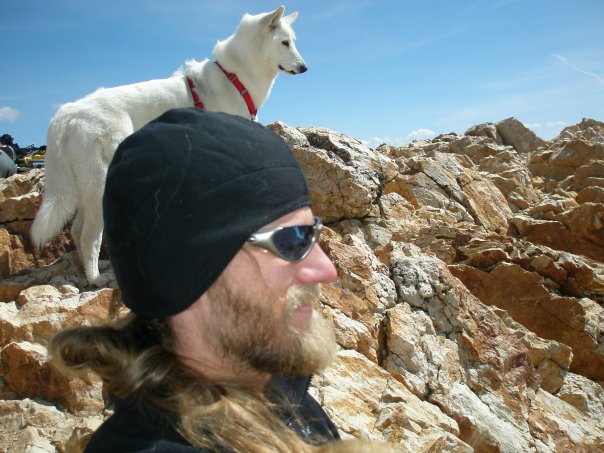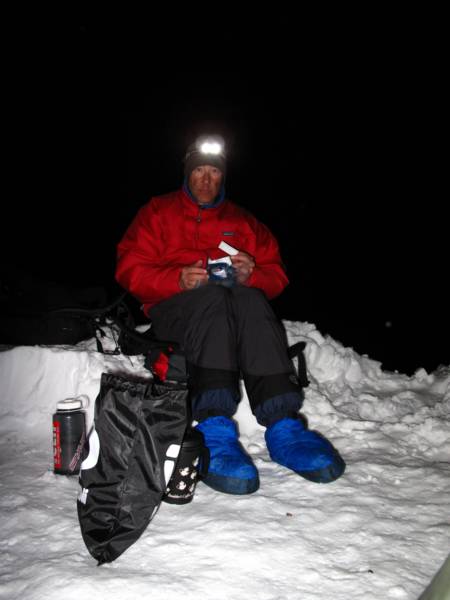 Barrows Worm in the Indian Peaks, Co. photo by Alex Platt, 2009.

Erik Kling with his dog Io pictured in background, photo courtesy of Erik Kling

Zach Taylor below the south face of La Plata Peak. photo by Ben Koelker, 2009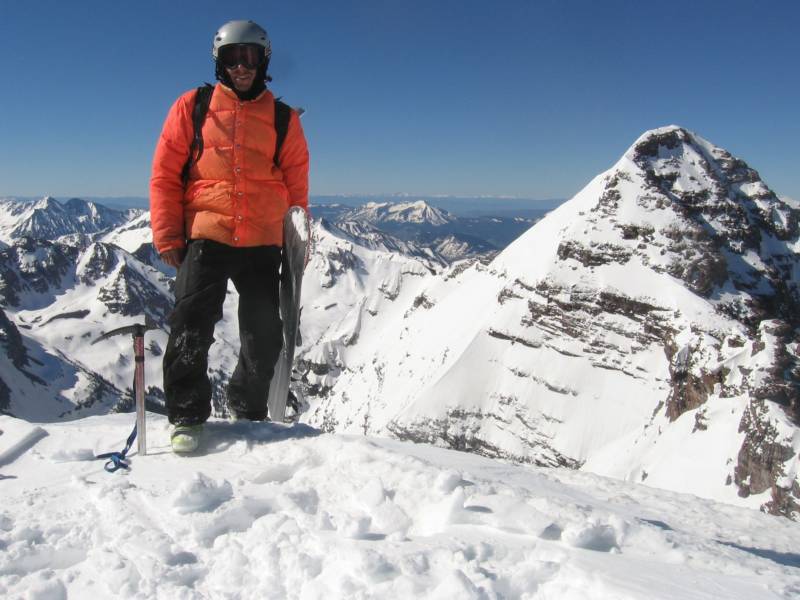 Jarrett Luttrell standing on North Maroon Peak, photo courtesy of Jarrett Luttrell, 2008.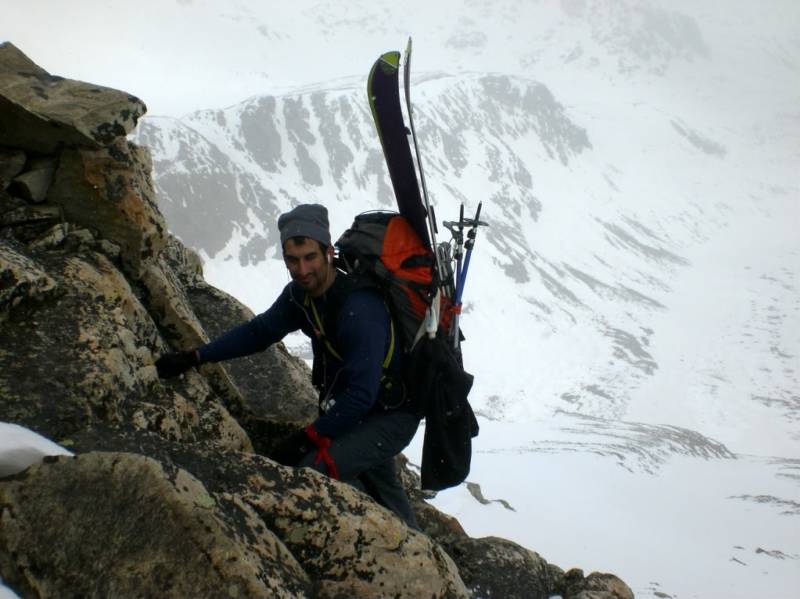 Marc Barella- We first heard about Marc Barella this last spring when he made the second descent of Capitol and probably the third descent of Pyramid.  Marc has however been ticking off the 14ers quietly over the last few years.  He has snowboarded 46 14ers so far.  He lives in Golden and most often climbs with 14er skiers Carl Dowdy and Ben Conners.